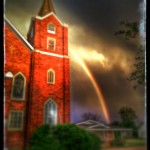 This Spring has been a beautiful time here in central Texas. We've been in the midst of a multi-year drought which has made for a pretty brown landscape. This year has been a bit different though. We're not out of the woods yet with the drought, but we've been getting some regular gentle rains that have kept the soil damp and the grasses and wild flowers growing nicely. Then in the last couple days we've had some heavy rains that have made the weather forecasters nervous … you know, the kinds of storms that keep the storm chaser folks – and the people who put on new roofs – in business. I took the attached picture just yesterday as the last of a very fast 1/4″ of rain fell in the span of about 10 or 15 minutes.  This is an area that depends on the rain not only to gently water crops, but also on those same rains that get the insurance companies and homeowners nervous – for it's the heavy rains that run off and fill up the farm ponds and tanks that provide water for the livestock all summer.
And that's kind of my point … we have a God that provides rain when we need it … as well as employment for roofers and weather forecasters. We can find good in every situation because God promises that; "… we know that in all things God works for the good of those who love him, who have been called according to his purpose" — Romans 8:28.
And even more importantly, in this season of Easter (and yes it's still Easter) we know that God has given us the fulfillment of his covenant that he promised to all mankind … which he renewed with Noah after the flood with the promise of the rainbow.  We remember in this Easter season that we've received that fulfillment in the ultimate gift of his providence in the death and resurrection of his son Jesus. Talk about things appearing to go terribly wrong that turn out for the good! In Jesus we have the final solution to all our worries about droughts and other damaging situations. I place all my hope in him for there's nothing that I can do to cause even one drop of rain to fall.
Christ is risen! He is risen indeed! Alleluia!
Pastor Mark